Mumbai's transition from a post-colonial city to a global trade and financial center came after tumultuous decades of change. Through these times, it maintained a relationship with the former Soviet Union and the city now has traces of Russian influence. From Mumbai seeing its first cosmonaut visit by Yuri Gagarin in the 60s at Shivaji Park, to the Soviet-style 'Martyr with a Flame' statue at Hutatma Chowk, Mumbai's Russian connection is strenghtened with the city sharing a special relationship with St. Petersburg; the Sister-City pact.
Introduction
Studying architecture in a city-center college in Mumbai has the massive advantage of location. Additionally, there was encouragement to explore the diverse urban fabric of Mumbai which led me to spend many evenings exploring the southern side of the city. To get from Prabhadevi to Churchgate, one can either take the local train or the bus. While I frequented the trains as they were faster and quite reliable, some days I'd turn to the bus so I could enjoy the drive by the sea and have better views of Central Mumbai's colonial and post-colonial architecture. It was on one of these days back in 2nd year of college that I came across this sign board on Shankar Ghanekar Marg:
Leningrad Chowk was named after the city in Russia, Leningrad (now St. Petersburg), and because of Soviet influence on the working class of the area. In the latter half of the 20th century, Dadar, Parel and Worli consisted of many dying cotton mills and were mired by long years of protests by mill workers demanding fair rights and wages. The relationship between India and USSR was at its peak in the 70s, when this road got its name. It also appropriately houses the World Social Forum, and is an active hub for home-grown leftists of that era. Its not easy to notice this board, nor do many people who work/study here know of it. When I saw it, I immediately googled the name and came across many articles about it, which linked me to articles about Mumbai and St Petersburg being sister cities. Another reason why I decided to make this connection the second installation of my continuing 'City Connections' series is because St. Petersburg is the first foreign city I ever visited (at the young age of 6) and will always have a special place in my memories (even though I remember the supermarkets, its metro and McDonalds more than I do its architecture and culture).
Bombay and Leningrad
It's rather interesting how both these cities had their names changed (to a previous name) in the early 90s due to political and socio-cultural reasons. Mumbai has been known by a couple of names over the centuries: Bom Bahia, Bombaim, Mombayn, Mombaim, Bombeye, Manbai, with the oldest known names being Kakamuchee and Galajunkja (before the Portugese started called it 'Good Bay' or 'Bom Bahia'– others are mostly a variation of this). Once the British took over the city in the 17th century, 'Bombaim' was anglicised to 'Bombay', which was used officially till 1995, when the name was changed to 'Mumbai'. This was done due to the insistence of Shiv Sena, a Marathi nationalist party, as a way of shedding the colonial affliation and strenghtening Marathi identity. Mumbai isn't a new name; its variations have been used by Koli fishermen for centuries and it was definitely used in Marathi, the local language. The name is an amalgamation of 'Mumba' and 'Aai'– 'Mumba' referring to the patron goddess Mumbadevi of the Koli community and 'Aai' meaning 'mother' in Marathi. The Mumbadevi temple is located in Bhuleshwar in South Mumbai and is around 600 years old. The temple was initially built in Bori Bunder and was apparently destroyed somewhere around the 1740s, after which a new temple was constructed in Bhuleshwar. Mumbadevi is now considered the city's patron deity.
St. Petersburg was founded around a captured Swedish fortress on 27 May, 1703. Peter the Great, after whom the city is named, had travelled around Western Europe and was immensely inspired by it. He named the city 'Sankt-Pieter-Burch' in Dutch manner, but later it was standardised to St. Petersburg due to German influence. After WWI started, the imperial goverment, in an attempt to make the city more Russian, changed its name to 'Petrograd' (Peter's City), which was later changed to 'Leningrad' in 1924 after the October Revolution of 1917 ended Russia's 300 year old monarchy. It carried this name till the fall of the Soviet Union, after which, on 6th September 1991, it was renamed St. Petersburg, following a citywide referendum (with some officials suggesting the name to be more Russian, like Svyato Petrograd). There was support for the name Leningrad, mostly by residents over the age of 60 and communist groups, while younger generations, the liberal city council and the Russian Orthodox Church vyed for the name to be changed back to St. Petersburg, as a restoration of their culture and historic beliefs, which were severely challenged by the 70 year long Communist rule. The city is locally known in the shortened version as 'Pieter' or 'Peter'.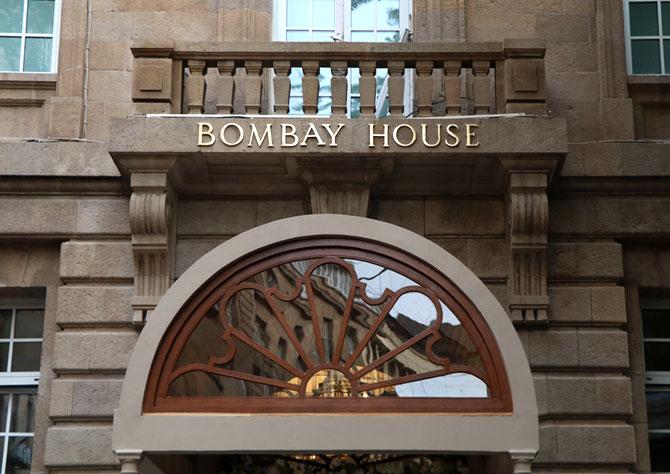 Rail Transport
Both Mumbai and St. Petersburg were the first cities in their respective countries to have the first passenger railway line (although, India's first railway had been built in Chennai (then Madras), from Red Hill to Chintradripet– a goods carrying train).
"This enterprise will shortly be opened for traffic as far as Tannah, twenty-one miles from the Bombay terminus… In a few weeks, therefore, the iron road that is probably destined to change the habits, manners, customs and religion of Hindoo, Parsee and Mussulman, will commense its work in the Indian Peninsula." (15 Jan, 1853, The Railway Times)
The first passenger train in India ran from Bori Bunder in South Bombay, all the way north to Thane, a distance of 34 kilometers, on 16 April, 1853. This line now is part of what we call the 'Central Railway' line. "The public are respectfully informed that on Monday, and until further notice, trains will be dispatched daily at the hours and fares named in the annexed table. First class tickets for the double journey only on the day of issue will be given between Bombay, Tannah (Thane) and Mahim at three-fourths of the ordinary fare"— an advertisement read on 8th April of the same year. The journey lasted an hour and fifteen minutes, with 14 railway carriages holding around 400 passengers. It was hauled by three engines: Sindh, Sultan and Sahib. The train left at 3:35pm after a 21-gun salute.
The first passenger train in Russia ran from St. Petersburg to Pavlovsk, a distance of 27km, on 30 October, 1837. The construction began in May of 1836, and horse drawn trains ran on it before a 8-carriageway train was hauled by a steam locomotive. Till 1851, this was the only passenger rail line in Russia, after which a connection between St. Petersburg and Moscow was built. It was a European, Franz Anton von Gerstner, who proposed a railway line in Russia to Nicholas I, in January 1835. The construction of this line was surpervised by engineers who had previously worked on railways in England. This was not meant to have any political or economic value– its initial revenue was low, it had limited carrying capacity, and was used primarily for sightseeing purposes in Tsarskoye Selo. Still, it is considered in an important step in developing rail transport in Russia; many valuable construction lessons were learnt through this.
Sister-Cities
Mumbai and St. Petersburg celebrated 50 years of the 'Sister-City' relationship in 2017. This tag was given to these cities back in 1967 as a way of strenghtening cultural and economic ties, promoting tourism and improving business relations. The concept of Sister Cities, also known as 'Town Twinning', came after WWII to promote understanding among diverse cultures and as an act of peace (and also, to increase strategic internatinal business and tourism). Mumbai has more than one Sister-City; Busan, Honululu, Izmir, Shanghai, Stuttgart and Yokohama also share this relationship.
Mumbai and St. Petersburg have both been rather liberal cities compared to the rest in their respective countries, perhaps due to them being modeled on European/Western values. While Mumbai was ruled by the British who wanted to modernise the city by building civic infrastructure, like Bombay University and the railways, Peter the Great, a Tsar, spent years in Western Europe, learning Western customs, to come back to Russia and establish St. Petersburg based entirely on Western values of design. Both cities have had their public infrastructure designed majorly by the British; this has allowed them to have an architectural connection. Additonally, the cultural exchange between the two is significant, especially the impact of Bollywood on St. Petersburg. This relationship also allows for funds to be disimbursed for studies in Russian and Hindi, in universities and schools. Indian restaurants, cultural centers and exhibitions in museums have increased in St. Petersburg due to this treaty.
Art Nouveau vs Art Deco
Mumbai is very well known for it's Art Deco buildings and in recent years there have been many (successful) efforts to revive this and create awareness among citizens about the city's architectural history. One of the best online archives available is Art Deco Mumbai; they have superbly managed to document these heritage structures. Art Deco, around the world, is generally considered as the last, or one of the last, ornamental/decorative movements before the revolution of modernist styles took over the world with the advent of WWII. It originated in Paris, in 1925 as a result of industrialisation; a way for artists to break out of tradition. Art Deco heavily used geometric symbols and had more straight lines than previous styles. Art Nouveau (New Art) was a style that originated in the 1880s and lasted all the way till WWII (although sharply declining around the 1910s). Art Nouveau embraced the industrial revolution, but kept heavy ornamentation in the form of natural elements. Art Nouveau is the predecessor to Art Deco; while both have similar characteristics, Art Nouveau tends to be busier, more ornamental and for a lack of better words, fancier, than Art Deco. Deco took a hold in Mumbai, while St. Petersburg was adorned with Nouveau embellishments and style.
Art Nouveau was the prominent architectural style of St. Petersburg, as it was modelled after Western European opulence. The first Nouveau building in the city was Hauswald Summer House (note the German name) built by Vladimir Chagin. The Nouveau style in Russia developed into various other styles with influences from Nordic architecture, Islamic architecture, Eastern Orthodox architecture and so on. Thus, Art Nouveau itself in St. Petersburg, is rather diverse. Merchants from Western Europe would build their mansions in St. Petersburg and name them in their languages, bringing with them new technologies for more ornamentation. This style of architecture reflected the economy of the city as well. A Nordic version of the style is called 'National Romantic Style'. There is a little bit of Deco in the city, but it is surely not as prominent. Once the monarchy ended in Russia, so did the proliferation of this style. Conversely, Mumbai barely has any Art Nouveau buildings but this style does feature in interior design for the rich of the city.
Bollywood in St. Petersburg
During the Soviet times, Hollywood was strictly banned in the country for obvious reasons. This allowed Bollywood to gain massive popularity amongst Russians which was fueled by the friendly relationship between the two countries. Additionally, Bollywood movies of the past were rife with 'traditional' values which the Soviets wholly agreed with. The sheer number of Bollywood movies provided cheap entertainment for USSR citizens, which thus led to its popularity. In the 1940s, even Indian thought was influenced by Soviet ideals, which was later penned into scripts for movies and literature. Raj Kapoor became a beloved celebrity with his film Awaara, dubbed in Russian as 'Brodiaga', and later with Shri 420. In 1980, Alibaba Aur Chalis Chor was released, an Indian-Soviet effort based on Arabian Nights, directed by Uzbek Latif Faiziyev and Indian Umesh Mehra. The interest in Bollywood declined as Hollywood movies became accessbile, but Indian film makers have a new found interest in using Russian cities as a European backdrop. A bunch of somewhat recent films have been shot there such as Agent Vinod, Lucky, No Time for Love, Players, Khiladiyon ka Khiladi etc. Following are some pictures of locations.
Mumbai and St. Petersburg have been inspired and designed by Western architects and have a lot of British influence. In this way, they're very similar. Even after the colonial period of Mumbai and the fall of Soviet Union in St. Petersburg, both have in general followed western values and are at the forefront of the liberal movement in their respective countries. While this may sound great, it has exposed several issues with urban development, which has been explored in this article by CityLab. Its a recommended read if you like stories about city development, history and political, socio-economic inlfuence. Hopefully, more comes out of the Sister-City pact and Mumbai gains some Russian restuarants and maybe a ballet hall?
Sources and helpful links: Wikipedia articles- 1. Russian Rail History 2. Art Nouveau in Russia
Mumbaiwale: From Russia with Love
Leningrad, Petersburg and the Great Name Debate
Further Reading:
Why are so many of St Petersburg's renowned art-nouveau mansions being left to rot?